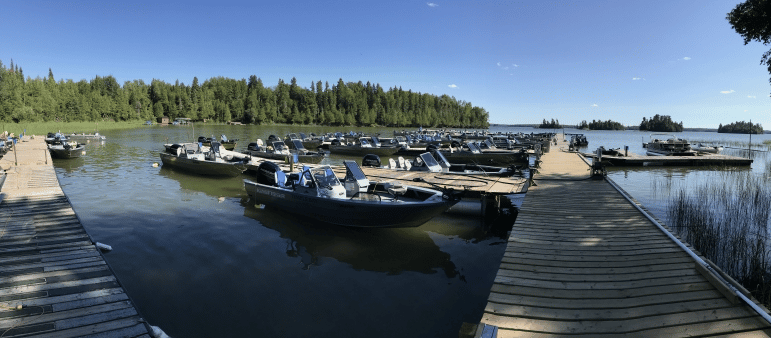 POLICIES
CANCELLATION & TRAVEL INFORMATION
Deposit forfeited if cancelled within 30 days of trip.
Outside 30 days notice, deposit will be forwarded to following year.
TIPPING CAN BE DONE AT THE END OF THE TRIP FOR WAITRESS, GUIDE, DOCKHANDS, HOUSEKEEPING, AND COOKS. GUIDELINES WILL BE GIVEN AT LODGE BEFORE DEPARTURE FOR TIPPING.
LIMITS TO CROSS BORDER: ONE POUND OF TOBACCO, OR ONE CARTON OF CIGARETTES (200) OR ONE BOX (50) CIGARS. (ONLY ONE ITEM ALLOWED PER PERSON). 40 OZ. OF LIQUOR OR WINE (1.1 LITER) OR ONE CASE OF BEER (24-12 OZ CANS ONLY - NO GLASS). IF YOU ARE DRIVING YOURSELF ACROSS THE BORDER YOU MAY BRING MORE OF THE ABOVE, BUT MUST PAY DUTY.
Any existing D.W.I., felony, assault, or arrest record, no matter how old the violation or what it was even if it is expunged in the USA, will still show up in the records of Canada. If you have any doubts about any violation call Canada Immigration at 1-807-274-3655, ext. 239 or 240.
PASSPORTS: All U.S. citizens 16 yrs. and older will be required to have a valid passport to cross the border. Children 15 yrs. and younger will be required to show birth certificates (copy o.k.). If a child is traveling with only one parent or grandparents they must have a permission slip from another parent or both parents. You can apply for a passport card for $50 which will get you across any border by land but not by air.